Photography at Oregon has brought photography exhibitions and events to Eugene, and Lane County, Oregon, for 50 years.
Professor Bernie Freemesser and his students established the Photography at Oregon Gallery at the University of Oregon Art Museum in 1966. It was the first photography gallery at a public institution on the West Coast.
Bernie Freemesser in 1974
Photographer/attorney Gerald Robinson of Portland donated lighting and construction materials to transform a large broom closet on the museum's ground floor into an intimate gallery space. Shows were chosen and hung by a committee of students, faculty, and alumni.
PAOG's monthly exhibits built a devoted following. Its acquisitions built the museum's photography collection. The museum eliminated the gallery space in favor of a gift shop in 1992, but PAO continued to exhibit fine-art photography in other local venues.
A newly remodeled, enlarged, and renamed Jordan Schnitzer Museum of Art opened in January, 2005. PAO was invited back and had a display space until 2009, when a new museum administration eliminated the PAO gallery space and programs.
2009-2014 PAO exhibits were hosted by the Emerald Art Center in Springfield.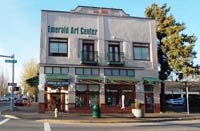 UO alumna and Lane Community College photography instructor Susie Morrill has chaired the PAO Committee for 25 years.